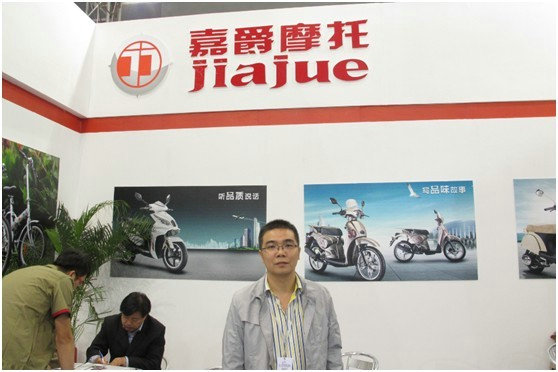 SuQiang:The general manager Jiajue motorcycle Department
NiuMoWang:Over the years Jiajue motorcycle Mabohui participating for the first time, what is the main reason?
SuQiang:This is Jia Jue with 10 variety of 250cc and 300CC, 450cc sports car exhibition. In recent years, manufacturing and development of Jia Jue has been committed to the car and the car, committed to foreign high-end market. At present, the export of our sports car products basically covered 10 countries on the world, the reason to come to the motor will, but also to see the domestic high-end motorcycle market potential. Jia Jue scooter a few years ago in the Chinese market has a certain influence, we also hope to build professional Street run products influence.
In addition, Jia Jue in scooter manufacturing field and strong advantages, in the show. You can also see our scooters products are all independent design and development.
NiuMoWang:Have you announced that this part of the product?
SuQiang:The existing 4 125cc and 250cc products have been produced and sold, 450cc products will be in July next year to enter the market.
NiuMoWang:These car product appearance has a personality, Jia Jue project team should be very large?
SuQiang:No, I'm the lead development.
NiuMoWang:You?
SuQiang:Yes, I also own a motorcycle enthusiasts, have many years of experience in domestic and foreign car, the car is very understand. So in the development of the product can be better and the market close.
NiuMoWang:Jia Jue supporting how to do.
SuQiang:Mainly in Zhejiang and Guangdong, most of the supporting their company design and development and production. And the core of the accessories are concentrated in the industry well-known enterprises to cooperate to ensure the stability of product quality.
NiuMoWang:This part of the product price?
SuQiang:To our 250 sports car, for example, the price is about 1-2 million, very cost-effective.
NiuMoWang:Well, thank you for your answer.
SuQiang:You are welcome.